Have you ever felt it can be challenging to keep up with all the tasks and responsibilities you have to manage on a daily basis? Whether it's work-related deadlines, household chores, or personal goals, it can be challenging to keep everything organized and on track.

The "Getting Things Done" (GTD) method is a popular productivity system developed by David Allen to help people manage their tasks and achieve their goals effectively.

In this blog, we will explore the core principles of the GTD method and show how it can be easily implemented with Closer! Whether you're a busy business owner, sales professional, or someone who simply wants to be more organized and productive, the GTD method applied with Closer can help you achieve your goals and lead a more fulfilling life.

The GTD method consists of 5 simple steps everyone should follow to organize their ideas and, as the method's name says, get things done.

1. Capture: The first step is to capture all the tasks, ideas, and projects that are floating around in your head or scattered across various sources, such as messages, attached notes, or voicemails. The idea is to get everything out of your head and into a trusted system that you can review regularly.

2. Clarify: Once you have captured all your tasks and ideas, the next step is to clarify what each of them means and what the next action should be. You need to decide whether a task is actionable or not, and if it is, you need to determine the specific action you need to take to move it forward.

3. Organize: After you have clarified all your tasks, you need to organize them into different categories, such as projects, next actions, waiting for, and someday/maybe. This will help you prioritize your tasks and know exactly what you need to do next.

4. Reflect: The fourth step is to regularly review and reflect on your tasks and projects. You should review your tasks at least once a week to ensure that you are on track and that nothing falls through the cracks.

5. Engage: Finally, the last step is to engage with your tasks and projects. This means taking action on your tasks and completing them in a timely manner. The goal is to be productive and accomplish your goals efficiently.

We're going to show you how you can implement the GTD method with Closer, but before that, you may ask, why can't I GTD with WhatsApp?

Well, there are many "workarounds" that you can use on WhatsApp to help you GTD, but not quite efficiently:

- You can send messages to yourself and use that as a default "to-do" list similar to the "Capture" step above, but it's hard to match those tasks to the people you're talking to, and you can't "check them off" when the task is done.

- You can pin the most important chats to the top of your "inbox", but you have a limit of three chats to pin, and what is important may change over time.

So now, how can I achieve GTD with help of the Closer app?

Closer is an app that integrates with your WhatsApp and built for those who want to take control of their messaging, which is the basis of so much of our life's tasks, and enables you to organize, prioritize, notify, and assign tasks all from one place, offering features that WhatsApp don't have itself. This way, you can be able to have your tasks at hand at all time but also have the necessary tools to achieve the GTD method.

Now let's revisit the 5 steps of the GTD method and how you can use Closer to help you:

1. Capture: One of Closer's main tools is "reminders", which you can use to annotate your tasks, so in any chat that can be related to your task you just need to add a reminder with a specific time and hour and Closer will send you a notification right before its's due, so you won't forget any important task!

For example, if Emily works in a company that plans proms for schools, and she spoke with her client, Valentina, on Monday. They agreed that the next action is for Emily to send the flower selection, but Emily doesn't have the time right now to complete that task, so Emily creates a reminder specifically related to her chat with Valentina to do it on Thursday.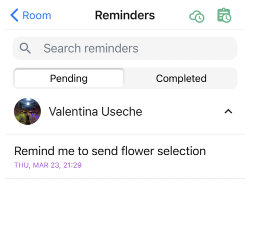 2. Clarify: For the clarification step, it would be useful to have a full view of all tasks. In the Closer app, you can navigate to the "reminders" homepage from the top left to visualize all of your currently active reminders. This will allow you to have a clear view of all the tasks that you need done and the approximate date and time you were planning on doing them. The task is linked with the person you have to do it for, so you'll never forget the context.

So for the same example, if Emily has different current prom processes with different clients, she can look at the reminders section to check all her current tasks with them.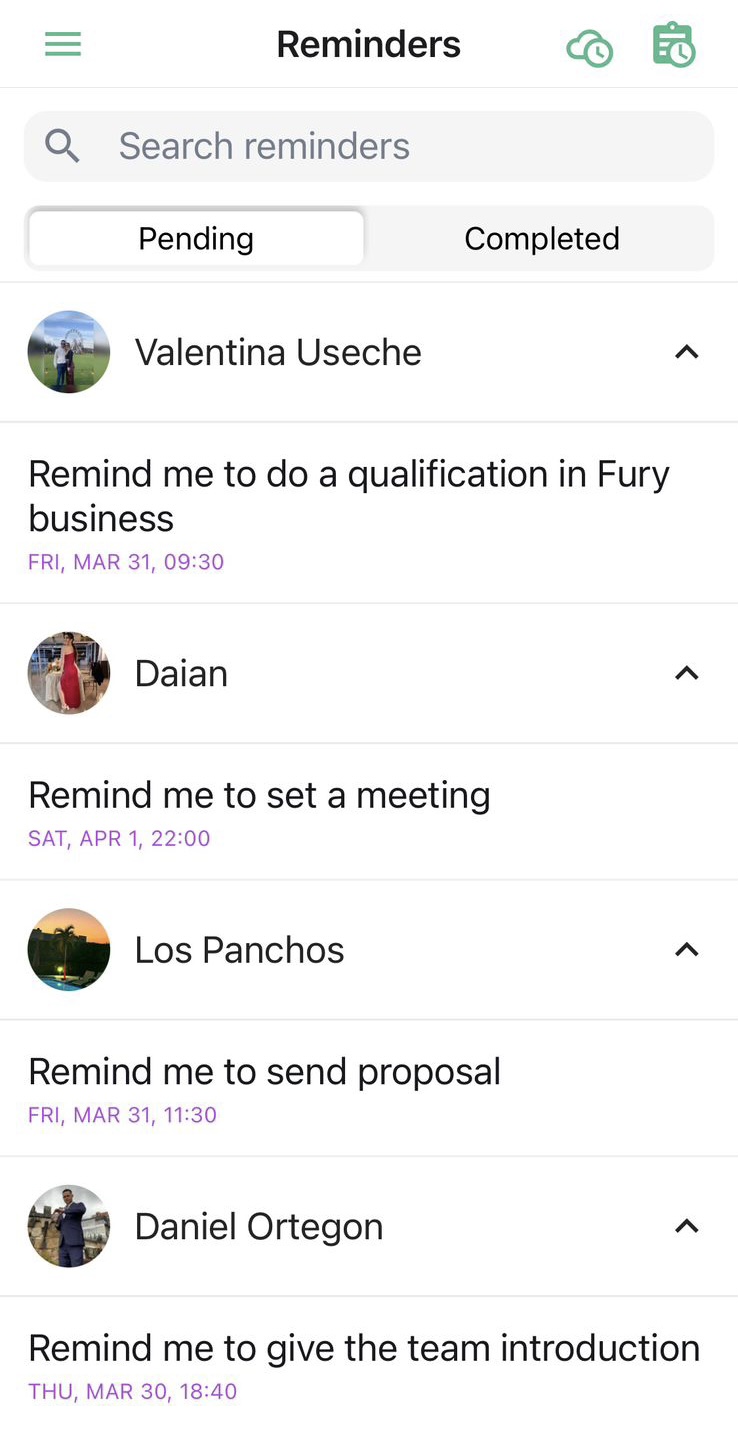 3. Organize: Moving forward to the organizing step, it would be nice to give some kind of labels to each task. You can actually organize your chats in "split inboxes", where you can select a group of chats and add them to an "inbox" of your choice. You can create this "inbox" by creating a new label, and you can also reorganize the different categories in the priority order, or in the order you like. This way you can categorize different chats for different purposes!

Let's say Emily has organized her labels depending on the prom date, that way she can organize her priorities, so the bottom of her Closer app would look something like this:

4. Reflect: Now, for the reflect step is also really useful to go back into the "reminders" homepage, at least once a week, so that you can visualize all of your current reminders and readjust them if you need to, such as changing the due date, or even the task itself if the need has evolved based on client conversations.
5. Engage: Finally get into action! You should be constantly checking on your contacts to make sure everything is in line and that you both are clear on the done and the pending tasks. For example, you can "schedule messages" to be sent at any time you need, that way you won't forget it and the app will do it automatically by itself.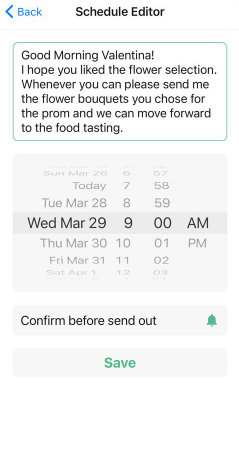 So, if you want to be more productive, organized and achieve your goals efficiently, you should implement the GTD method with Closer, the app that helps you take control of your messaging. With Closer's tools, you can capture, clarify, organize, reflect, and engage with your tasks and projects easily, all from one place. Say goodbye to scattered notes and messages, and hello to a more fulfilling life. Try Closer today and see the difference for yourself!