More information and knowledge are accessible to us now than ever before. Productivity systems can benefit individuals and teams, and they can be used in everyday living and on particular tasks or goals.
It's not always as simple as just doing the job to be productive. There are many challenges in front of us. An obstacle to productivity can even be the vast amount of decisions, some big like what is the meaning of life, some small like what snack to eat in the middle of the day, but one of the decisions we often have to make is who we should respond to on WhatsApp and when we need to respond by, do I respond based on who messaged me first, or based on some other type of priority system.
One of the most widely used productivity systems is called the "Inbox Zero" method and has two goals:
There are different approaches to achieving "Inbox Zero", but if you want to set yourself up for success, you need the right tool. With Closer, you can achieve "Inbox Zero" by following the following steps:
Go to the "inbox" label on the bottom, this is where message threads that have not yet been assigned to another split inbox would show up (vs. the "all" label where all your threads live)
Slide a message thread from left to the right and click the "label" button to assign a label if there is an obvious label it belongs in, this could be "family", "priority" etc.
If there is no obvious label, you can either:

Create a new label to label this message thread, do this by clicking the "+" button
Archive the message thread, this puts the thread into the "archived conversations" at the top; when there are new messages, these conversations will unarchive and reappear in your "inbox"
You can also set a "reminder" within a thread and then archive it to remind yourself to do something later

Repeat this until every message thread is either labeled or archived and your "inbox" achieves ZERO!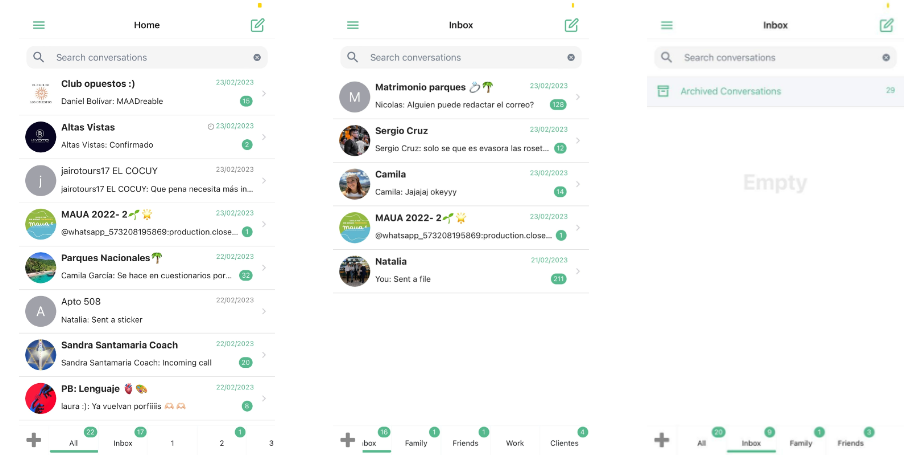 We hope these tips along with our tools help you to be more productive. Join Closer today and schedule your demo!